Green House & Poly House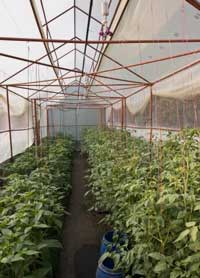 Greenhouse Technology provides crops with a controlled and favourable environment to grow in all seasons. Moreover, the technology saves crops from cold in winter, from heat in summer and from rain in monsoon. In Kerala, this technology is mainly used to cool off the environment, as the normal temperature is high and protect from heavy rain during monsoon season.
We have a facility for green house planting beds as per crop requirements. The beds are prepared by applying organic manure containing bio control agents and vermicompost, rice husk, bone meal powder, neem manure etc. to make them full of nutrients and well aerated.
Irrigation systems are an important aspect for green houses. We have developed affordable drip irrigation systems with flow and pressure control facilities.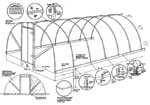 Poly houses are the green houses, which are using ultraviolet stabilized film. Poly houses are much suitable for the cultivation of exotic vegetables. Our Poly house consultancy services include crop selection, bed maintenance, drip irrigation system, planting and cultivation. We offer different sizes of poly house structures as per the requirement and the necessity.
Over the years, we have developed expertise in providing excellent fabrication, installation and maintenance services for different types of Poly House, Natural Ventilated Greenhouse, Fan And Pad Greenhouse, Green Houses. For more information, Please write to info@harithaorganicfarms.com