Wasteland development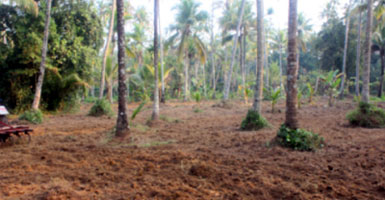 Wastelands mean degraded land which can be brought under vegetative cover, with reasonable effort, and which is currently underutilised and land which is deteriorating for lack of appropriate water and soil management or on account of natural causes. Wasteland can result from inherent/imposed disabilities such as by location. environment, chemical and physical properties of the soil or financial or management constraints.
Land reclamation, the process of improving lands to make them suitable for a more intensive use. Reclamation efforts may be concerned with the improvement of rainfall-deficient areas by irrigation, the removal of detrimental constituents from salty or alkali lands, the diking and draining of tidal marshes, the smoothing and revegetation of strip-mine spoil areas, and similar activities. Soil enrichment by different natural methods, such as green manuring, composting, vermi composting and bio fertilisers to obtain a Living soil (soil contains with microbial activity, fungi, nematodes and other tiny insects).
If you want further information on Wasteland development , you can visit the online resources linked to each subsection this website. We are providing training, consultancy on Wasteland development. For more details, Please write to info@harithaorganicfarms.com. Our technical experts will contact you for further assistance.